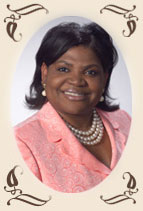 We are living in a time when our homes, communities and nation are in serious trouble. In the reading of God's holy word it states in St. Matthew 5:13 (a) "Ye are the salt of the earth, but if the salt have lost his savour, wherewith shall it be salted? We are motivated to help change our communities and we know that our presence must be known throughout the greater Portland area.
The Lord has indeed given us a vision for our group and he has given us tools to to help change this world. One of them is prayer. There are lots of women that do not know their purpose in this life, however, we know what we are called to do, and we thank God for choosing us to do it. Our purpose is to pray for our government leaders, pastors, churches, families and communities.
The Bible tells us in James 5:16 "And pray for one another, that we may be healed. The effectual fervent prayer of a righteous man availeth much." And we know what happens when women pray.
Another tool is education. We must educate our communities regarding our Lord and Savior Jesus Christ. We believe that we must share our experiences with others and show them how holy women cope with daily issues with the Lord as their helper. The Women's Fellowship can be found developing and attending:
Leadership Workshops
The Annual High Tea
Attending Conferences
Hosting Prayer Breakfast
Christmas Caroling & Nursing Home Visit
Sponsoring single parents for Thanksgiving & Christmas Holidays
The Women's Fellowship started in October 1996 and we're proud of our accomplishments. As we continue to pray and rely on the Holy Spirit for direction, were believing God to make a greater impact in this century.